Determining Resistance for Parallel in a Series Circuit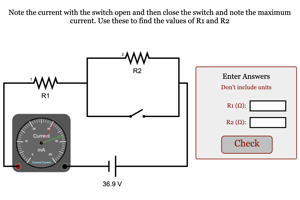 In this problem you will need to calculate the resistance of two different resistors that are connected so that one of the resistors is in parallel with a switch. You can open and close the switch and look at the change in current that occurs in the circuit.

When you are ready to start the experiment, click on the begin button.
Begin
End
Enter Your Answer Below
Don't Enter Units
Your Name:
R1 (Ω):
R2 (Ω):
Submit